NEW CONSTRUCTION
CONSULTATIONS & INSPECTIONS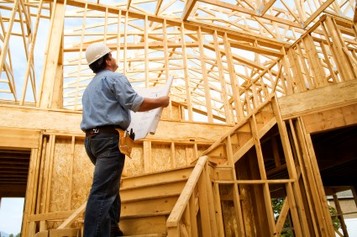 Types of New Construction Inspections We Perform
Hall Engineering, Ltd performs all types of inspections on new construction projects which range from a full consultation beginning with the design of the project to simple one-time inspections of specific areas and systems. Contact us
HERE
to see how we can help you build a safe and sound home.
If you still haven't decided to hire a new construction inspector or have a new construction monitoring inspection, read this carefully:
I have found the following on new homes…just recently:
1. Insulation in the attic air conditioner just before the evaporator. What happens is the insulation blows into the evaporator when it is turned on and the insulation hits the evaporator and retains the moisture from the condensation. The evaporator dries when off, except where the insulation remains. The evaporator then rusts in those areas and leaks Freon after 3 or 4 years. This has been a proven problem, but only found after the fact, costing the homeowner thousands.
2. Vapor barriers not installed in basements. Mold then grows in the basement causing respiratory problems to those affected by mold. Vapor barriers can also be installed incorrectly.
3. Water in basement from gutter drainage direction. Gutter installers throw the gutters on the house and move to the next. They NEVER think about how the gutter drain will flood a basement or crawlspace. This happens regularly. Builders don't look for this either.
4. Smoke detectors not even wired in to the power. No explanation required here.
5. Air conditioners which do not produce adequate cooling. You may run an air conditioner at 75% capacity for 3-5 years and cost yourself $1000 more in electric bills.
6. Incorrectly sized wiring. No explanation required here either.
7. Air conditioner condensate lines installed below ground level. After 3 years the air conditioner condensate will flood the house because the pipe will clog.
8. Insufficient attic ventilation. The additional 20 degrees in the attic will raise you cooling costs by hundreds of dollars every year. Not all heat can be removed from the attic, but much more can be removed than some builders install ways to remove it.
---